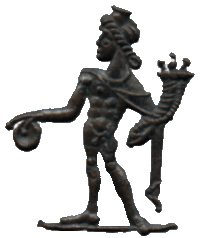 My collection of Greek and Roman coins. All coins are for sale, if there is not a price in the description, email me with a reasonable offer.
Email: bastrop_podiatry@yahoo.com

I accept Paypal, check, MO, cash

Greek
Sicily
Roman Republic
Antioch Pisidia
Augustus 27 B.C. - 14 A.D
Tiberius 14-37 A.D.
Claudius, A.D. 41-54
Nero 54-68 AD
Vespasian 69-79 A.D.
Domitian 81-96 A.D.
Hadrian 117-138 A.D.
Antoninus_Pius 138-161 AD
Faustina Sr. (died 141 A.D., wife of Antoninus Pius, who reigned AD 138-161, mother of Faustina Junior)
Marcus Aurelius 161-180 A.D.
Faustina II (wife of Marcus Aurelius, who reigned A.D. 161-180, daughter of Antoninus Pius and Faustina I)
Clodius Albinus 195-197 A.D.
Septimus Severus 193-211 A.D.
Julia Domina (second wife of Septimius Severus, who reigned 193-211 AD , mother of Caracalla and Geta)
Julia Maesa (Sister of Julia Domna and grandmother of Elagabalus and Severus Alexander 218-222 A.D )
Caracalla 196-217 A.D.
Geta 209-212 A.D.
Elagabalus 218-222 A.D.
Severus Alexander 222 - 235 AD
Julia Mamea (mother of Severus Alexander and daughter of Julia Maesa 220-250 A.D.)
Gordian III 238-244 A.D.
Phillip II . 247-249 A.D
Trajan Decius 249-251 A.D.
Aurelian 270-275 A.D.
Probus 276-282 A.D.
Maximianus 286-305 AD
Claudius II Gothicus, 268-270 A.D.
Galerius 305-311 A.D.
Maxentius A.D. 306-312
Licinius I 308-324 A.D.
Antiquities

Do You Love Ancients?
Curious to Know More?


The ACM!
Learn About the Hobby,
Join Our Free Email List!